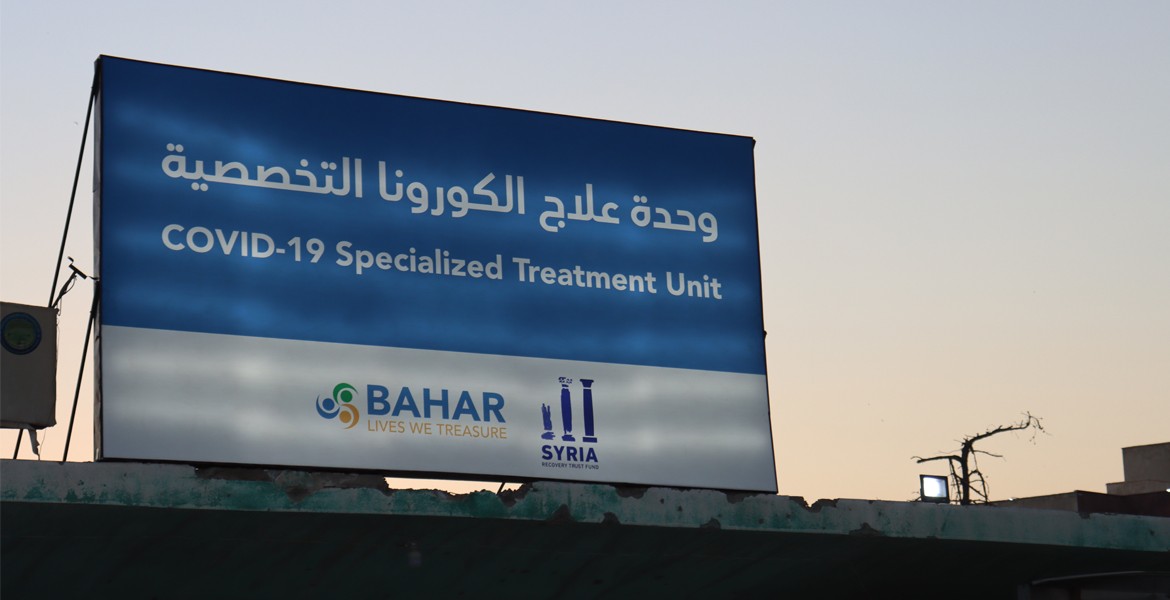 Bahar open COVID-19 Treatment Unit & Community Isolation Centre
Published Date:
Oct 12, 2020
---
(Ar-Raqqa National Hospital and Ar-Raqqa National Stadium, 20 September 2020)
Living conditions for most Syrians are cramped and overcrowded, with an overstretched health system grappling to cope with the most basic health needs. The arrival of Covid-19 into the north of Syria affecting both host communities and displaced Syrians is a grave cause for concern.
Once cases of the pandemic were diagnosed, Bahar, an NGO Established by Syrian doctors, made plans to set up a specialized treatment unit to begin work to battle the spread of the disease. Efforts are targeted to assist the most vulnerable families in northeast Syria NES.
"We recognized the need to open a treatment unit for patients displaying signs of Covid-19 in Ar-Raqqa," said Executive Director of Bahar Dr. Sharvan Ibesh. "Staff worked tirelessly over the past number of weeks to open a 50-bed treatment unit with 20 fully equipped ICU beds."
As cases continue to rise, Bahar sectioned off two floors in the Ar-Raqqa National Hospital to provide medical care to patients with the most severe cases, in line with the World Health Organisation case management protocols.
The pandemic presents multiple challenges to an already stretched health system, with the ability to overwhelm facilities and staff. More than 80 percent of people presenting with Covid-19 with mild or moderate symptoms do not require hospitalization. However, overcrowded living conditions leave families more open to the risk of the disease spreading in the war-torn Syrian communities and in camps.
"We set up isolation shelters and community isolation centers to provide people with mild to moderate symptoms with a safe space to voluntarily isolate until they are no longer infectious," continued Dr. Ibesh. "This will result in reducing household transmission and reserve beds for more seriously ill patients."
Another 100-bed isolation facility with separate female and male sections was set up in Al-Raqqa National Stadium. In addition, Bahar's community health workers working in seven primary healthcare centers in Ar-Raqqa are spreading the message of handwashing, keeping distance, and covering mouths when in public spaces.
ENDS
For further information please contact:
Mohammed Mahrousa, Head of Programs at Mohammed.mahrousa@bahar.ngo
Notes: Bahar is an NGO focusing on the health needs of Syrians across the north of Syria. It was set up eight years ago by a group of Syrian doctors in Aleppo to respond to the needs of the most vulnerable people in Syria.