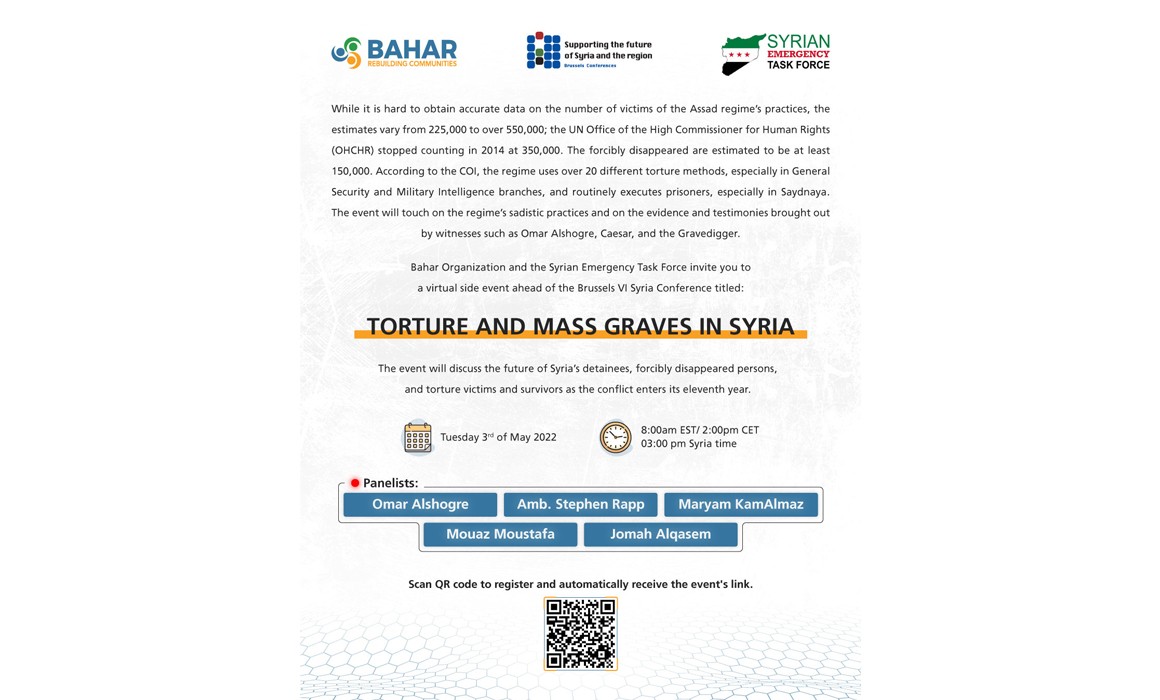 Torture And Mass Graves In Syria
While it is hard to obtain accurate data on the number of victims of the Assad regime's practices, the estimates vary from 225,000 to over 550,000; the UN Office of the High Commissioner for Human Rights (OHCHR) stopped counting in 2014 at 350,000. The forcibly disappeared are estimated to be at least 150,000. According to the COI, the regime uses over 20 different torture methods, especially in General Security and Military Intelligence branches, and routinely executes prisoners, especially in Saydnaya.
The event will touch on the regime's sadistic practices and on the evidence and testimonies brought out by witnesses such as Omar Alshogre, Caesar, and the Gravedigger.
Bahar Organization and the Syria Emergency Task Force invite you to a virtual side event ahead of the Brussels VI Syria Conference titled:
TORTURE AND MASS GRAVES IN SYRIA
Use the link to join the event
Details
Starting Date:
May 3, 2022 - 15:00
Ending Date:
May 3, 2022 - 17:00
Organizer Details
Organizer:
Bahar and SETF
Venue
Location:
Online, Brussels, Belgium